Axel Rudi Pell - Live On Fire [2013] [321 MB] [MP3-320k]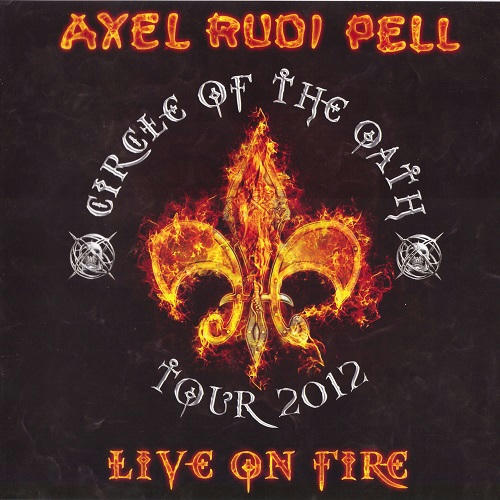 AXEL RUDI PELL - Live On Fire [2013]
[321 MB] [MP3]-[320 kbps] by @rockbendaDIO
–
Info
–
Artist
: AXEL RUDI PELL
Album
: Live On Fire
Content
: 2CD Albums [MP3]-[320 kbps]
Label
: Steamhammer (SPV 265122 2CD)
Edition
: GERMANY
Genre
: Rock
Style
: Heavy Metal
Date Release
: March 22nd, 2013
–
Tracklist
–
CD ONE
01. The Guillotine Suite (intro) (2:17)
02. Ghost In The Black (4:13)
03. Strong As A Rock (8:08)
04. Before I Die (4:16)
05. The Masquerade Ball (suite) (17:27)
05-1. The Masquerade Ball
05-2. Casbah
05-3. Dreaming Dead
05-4. Whole Lotta Love (Led Zeppelin cover)
05-5. Dreaming Dead
06. Drum Solo (8:27)
07. Mystica (suite) (12:02)
07-1. Mystica
07-2. Mistreated (Deep Purple cover)
07-3. Mystica
CD TWO
01. Oceans Of Time (6:26)
02. Circle Of The Oath (9:19)
03. Fool Fool (4:48)
04. Keyboard Solo (suite) (14:56)
04-1. Keyboard Solo
04-2. Carousel
04-3. Jam
04-4. Carousel
05. Tear Down The Walls (suite) (8:05)
05-1. Tear Down The Walls
05-2. Nasty Reputation
06. Rock The Nation (7:25)
–
Line Up
–
Johnny Gioeli - Vocals
AXEL RUDI PELL - Guitars
Ferdy Doernberg - Keyboards & Backing Vocals
Volker Krawczak - Bass & Backing Vocals
Mike Terrana - Drums
-
Additional Notes
-
Produced by AXEL RUDI PELL.
Recorded by Marco Blum.
Engineered by Ralf Speitel.
Mastered by Wolfgang Eller.
Mixed by Charlie Bauerfeind.
Photography by Armin Greither, Bernd Schwarz, Horst Fleckhaus,
Paul Bossenmaier and Thomas Fiedler.
Artwork and Design by Kai Hoffmann.
Recorded Live in Cologne (Essigfabrik), Germany on October 18th 2012.
–
Audio Preview
–
http://viahold.com/1pJS
–
Official Videos
–
[enlace]

–
Data Download
–
Artist
: AXEL RUDI PELL
Album
: Live On Fire
Date Release
: March 22nd, 2013
Format
: [MP3]-[320 kbps]
Total Size
: [321 MB]
Included
: Artwork
Password
: rockbendaDIO
Link
:
http://viahold.com/1pKC